Columbia Pacific Communities is all geared up to explore India's senior living space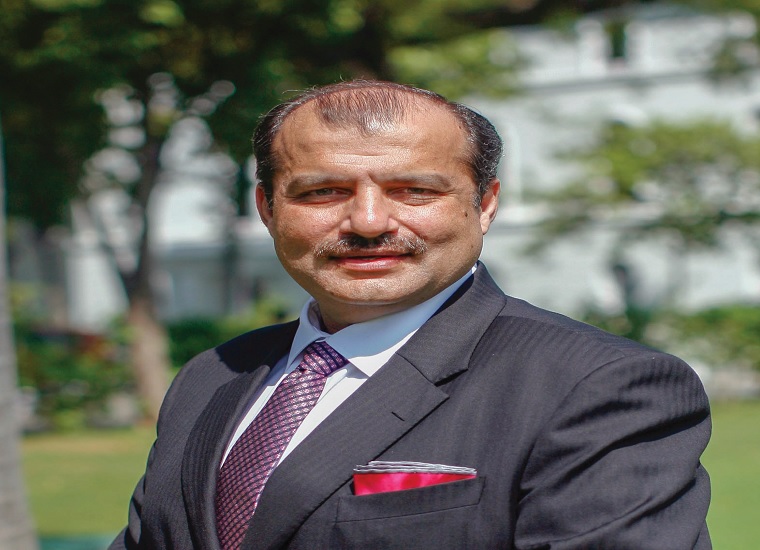 Columbia Pacific Communities (CPC), a part of the Columbia Pacific group, has now decided to aggressively expand its base in India. Having entered India in 2017, CPC is already one of the largest and most experienced senior living community operators in India, with over 1,600 residential units under management in five cities and nine locations across south India. One of the foremost developers and operators of senior living communities in the US, Europe and Asia and the promoter of Columbia Asia Hospitals, a pioneering healthcare service provider, the group has 11 hospitals (over 1,000 beds) in India under the brand, Columbia Asia Hospitals.
As part of its newly-formulated strategy keeping in mind the growing demand for this new asset class going ahead, the Seattle-based group's Indian entity, with its corporate office in Bengaluru, is now firming up a comprehensive plan to launch four-five projects every year. In fact, the company is looking to ramp up its management portfolio to about 5,000 residential units in the next five years. As per an estimate, India will be home to over 173 million senior citizens by 2026 and 300 million by 2050. India sees seniors forming 8 per cent (100 million) of the population. With limited supply from Grade A developers, there is an urgent need to cater to this segment with well-designed and fully-serviced facilities. CPC has now decided to go pan-India – though, initially, the focus will be on Tier I cities.
While doing so, the company is also looking for partnering with local realty developers in India. Part of entrepreneur and senior living pioneer Dan Baty's Columbia Pacific, it has more than 40 years of experience and expertise in designing, building and managing senior housing communities around the world.
CPC has nine operational senior living projects, of which four are in Coimbatore, two in Chennai and one each in Bengaluru, Kanchipuram and Puducherry. The management of these nine projects came into its portfolio when it entered into senior living housing in India in 2017, with the acquisition of Tamil Nadu-based Serene Senior Care, which was managing these communities. While it is managing these projects, CPC has already launched its 10th senior living project in India named 'The Virtuoso Club and Serviced Residences' in Bengaluru. This is the first time the company is developing a project in India on its own.
Well-designed products
The company offers its projects under two brand names 'Serene by Columbia Pacific', which includes the legacy Serene properties and others that will be created for a mid-range price point; and 'Columbia Pacific Signature', which is the premium brand for the upper-middle-class consumer. Backed by a core team of professionals and a workforce of 650-odd employees, CPC is looking to add 350 people to manage four proposed projects in the current fiscal year. "India is an emerging market for the senior living space and, at Columbia Pacific Communities, we are geared up to explore all opportunities," affirms Mohit Nirula, 55, CEO, Columbia Pacific Communities. "Our parent group has been in this business for more than four decades now and we want to replicate our global success stories in India as well. We benefit from our group's experience in designing, building and managing senior living communities and healthcare services across the world. In the last few years, we have built our capabilities and we are now ready to serve this market with our well-designed products for seniors."
"We started in the US, where we have built over 500 facilities, designed and operated for seniors," says Baty, 77, founder & chairman, Columbia Pacific Group. "We have also been one of the largest operators of senior housing in the country. Columbia Pacific has also been investing abroad for more than 30 years now, whenever a particular need, which no one else can fill, is identified. In the 1980s, it was senior care in the UK and France. In the 1990s, we built Columbia Asia Hospitals in South East Asia and India. Now, we are turning to Columbia Pacific Communities.  We believe the opportunity for retirement living in India is vast. And, everywhere, we take pride in building and operating communities in which seniors can really thrive. It's so important to have social interaction as we age." Baty, along with his sons, Stanley and Brandon, had formed the holding company, Columbia Pacific Management (CPM ), as a family venture in 1989. Apart from overseeing the group's international healthcare business, CPM also develops as well as operates hospitals, clinics and senior housing.
Looking at the demographic trends, Baty, who has been successfully investing in and developing private companies for over 40 years, established CPM 's foundation of improving lives by assessing the healthcare and senior living needs of communities worldwide. Throughout its existence, CPM has delivered compelling investment results, while building a lasting legacy through companies such as Emeritus, Hillhaven, and Holiday Retirement. These companies have led the industry and set the pace for senior living worldwide.
In 2006, CPM launched Columbia Pacific Advisors, an alternative investment platform for the Baty family and a select number of outside investors. CPA manages investments across a range of real estate, opportunistic, direct lending and hedged strategies. In 2011, it was followed by the formation of Columbia Pacific Wealth Management, a comprehensive wealth management firm, with the ability to work closely with clients and develop tailored solutions to preserve, build, and transition wealth.
Betting big on India
CPC is now betting big on the Indian market. The company has tied up with Bengaluru-based Embassy Group, even as some more partnerships with other developers, including the Adani Group, Nyati Group of Pune and Kolkata's Ambuja Neotia group are in the pipeline. Experts are of the view that such partnerships will help CPC expand its base in India quickly in an asset-light model. While CPC is present across the value chain (designing, development and managing) of the senior living space, it will lay greater stress on the designing and managing of such communities in India. "In India, senior living is an emerging area and, for CPC to pursue partnership models, is a strategic move as it will help expand its business quickly in the market," says Ambar Maheshwari, CEO, Indiabulls Asset Management Co Ltd. "Moreover, it will also help it focus on its core competencies, such as designing, operating and managing such communities. On the other hand, developers with development skill and local knowledge will get the opportunity to get into this new asset class in a more seamless manner."
"Our senior citizens seek a secure, caring environment to live in independence without the pressures of maintaining a full-fledged home," contends Aditya Virwani, COO, Embassy Group. "With the current pandemic and uncertainty, we are striving all the more to make the later years for our seniors rewarding and fulfilling, by providing them an enhanced lifestyle and peace of mind for their families, which is truly priceless. In line with our vision of 'Embassy Cares', our senior living spaces are focussed on building the entire ecosystem to meet their aspirations and safety needs. We are excited to bring in this new asset class and see our first project to fruition along with Columbia Pacific Communities." "We are entirely committed to building and nurturing communities for seniors, as we believe that community living, and social engagement is the strongest antidote to loneliness and a wonderful enabler of 'positive  ageing'", argues Nirula. "Residents can expect to find an environment that encourages them to remain physically fit, mentally alert and emotionally stimulated. Further, in an increasingly vulnerable world, communities are the safest and the most secure places for seniors to live in. The appreciation of having a community stand with and behind you provides peace of mind to the residents and a sense of relief to their families. We are delighted to be able to create such an environment with a credible partner such as the Embassy Group as this association is to the ultimate benefit of our residents," Nirula adds.
"We are excited about embarking on this venture with the Embassy Group in Bengaluru," comments Carsten Belanich, lead, international senior housing, Columbia Pacific Management, Inc. "Our companies' strengths – across design, development, and operations – complement each other. The result will be an outstanding new option for seniors in Bengaluru, providing world-class comfort, security and – most importantly – a truly vibrant community in which to live." CPC and the Embassy Group's first senior living project will be launched at Embassy Springs, Bengaluru's biggest and best-planned self-sustained community in north Bengaluru, spread across 288 acres. The first phase, to be launched by Q2 2021-22, will have around 250 units in 1-2 BHK formats, with unit sizes of 600- ,000 sq ft carpet area. Embassy Group, backed by CPC, aims to make senior living a mainstream concept in India. The senior living facilities will be designed to meet international standards and offer the finest of amenities. In order to make residents live healthier for longer, the communities will offer a packed calendar of resident engagement events such as book readings, yoga and mindfulness sessions, drumming sessions, pottery and storytelling workshops, etc. Beside senior-friendly amenities and medical support, the communities will be fully serviced in providing food, housekeeping and 24-hour assistance.
"The evolving lifestyle in urban centres has created a need for self-sufficient and socially engaged communities, where the superannuated can lead a healthy and contented life," adds Virwani. "Embassy is keen to serve this segment with a vision to expand to Chennai, Hyderabad and Mumbai, with 3,000 units by 2023."
International standards
"The joint venture with the Embassy Group is a strategic collaboration to bring world-class senior living communities into India, with fully serviced residences designed to international standards," contends Nirula. "CPC has pioneered the concept of community living for seniors across the world and has already brought to the country its first senior living community designed to international standards." He believes there has never been a more apt time than now for senior living communities. The post Covid world will see an increased demand for community living, because it's a community that stands by you in times of crisis. A senior living community is not only self- sustained, but it also caters to the immediate needs of its residents, including healthcare and other essentials, in a highly controlled and sanitised environment. Moreover, Nirula is of the opinion that it is always better to create these kinds of communities within an integrated development/township and that is the reason CPC is also looking for the JV route with reputed developers. This also provides more resources for designing, managing and operating the properties (rather than developing), something where CPC is a global leader.
"For us, senior living is not real estate but more of hospitality and healthcare play," adds Nirula, who started his career in hospitality with The Oberoi Group in 1986. Since 1996, he has been in leadership roles, heading hotels across brands (Novotel, Trident, Oberoi); geographies (India, Mauritius, Egypt); and a diverse range of responsibilities in operations  (openings, renovations and restorations). In February 2018, he joined CPC as CEO and has, since then, been leading a dynamic team of people engaged in designing, building, selling, opening and operating communities for elders. A hotel management graduate, he has over 30 years of experience in the hospitality business.
"Our focus is to provide a lifestyle that is enabling, active and stimulating, while enveloping our residents in an environment of genuine warmth and care," says Nirula. "While managing and operating, we are also known for our services in healthcare to our elders. As a group, we are also a leading player in the healthcare space." CPC has partnered with 1mg, India's leading digital healthcare platform, to offer curated healthcare benefits to its residents. 1mg will be the official e-healthcare partner of CPC for all its present and future communities, going forward. Through this partnership, senior residents of CPC will have effortless access to over 250,000 authentic medicines and health products at 1mg at special prices, along with a complete portfolio of diagnostic tests, medical advice from leading experts, Covid-19 testing and support, and much more. The partnership will also result in residents enjoying specialised engaging programmes such as health webinars, health camps, and ask-me-anything sessions with doctors and healthcare experts. "Senior citizens are a vital part of our ecosystem and it is important that we recognise their unique needs and provide them personalised and easyto- access healthcare," remarks Vikas Chauhan, co-founder, 1mg, commenting on this new association. "We always strive to offer the best user experience for all customers – and we are excited about the opportunity to serve this important segment, and the difference we can make to the lives and lifestyles of residents of CPC."
Nirula feels that healthcare for seniors cannot be generalised. It requires a certain degree of personalisation, compassion and attention to detail. So, leveraging a specialist healthcare platform gives them the access to quality services almost instantly, within the comfort and safety of their homes. "We are delighted to partner with India's leading digital healthcare platform, 1mg, as it will empower our residents, amidst uncertainties, to get access to best-inclass and round-the-clock healthcare services. With this partnership, we are strengthening our promise of helping seniors live healthier for longer, which is an extension of our brand philosophy of 'positive' ageing," he adds.
Meanwhile, while CPC now manages nine projects under its portfolio, it has already launched its 10th senior living project in India named 'The Virtuoso Club and Serviced Residences' in Bengaluru. This independent senior-living community project, with 158 residential units (price range: R39 lakh-1.1 crore), is coming up in Budigere Cross, Old Madras Road, Bengaluru, and is expected to be ready by the end of 2023. This will be the first project in India, where the company is developing the project on its own. Amenities at this project are tailor-made for an independent senior-living environment. It includes a fully equipped clubhouse, landscaped gardens, gymnasium, swimming pool, recreation club, terrace lounge & rooftop amenities and wellness centre. There are plans for available services to include housekeeping, three meals a day served in a restaurant setting, and a concierge for activities and fitness. Most importantly, well designed health care support will also be part of CPC's offering, including a nurse on call, a nearby hospital, and an ambulance. The project features the best in CPC's luxury living segment. While CPC has entered India, the market for senior living here is also taking shape with local players like Punebased Paranjape Athashri (eight senior living projects in Pune, Bengaluru, Vadodara); south-based Covai Care (11 projects in Coimbatore, Bengaluru, Mysuru, Pondicherry); Delhi-based Ashiana Senior Living (four projects in Bhiwadi, Chennai, Jaipur, Pune), southbased Bahri Estates (four projects in Kodaikanal, Bengaluru); Oasis Senior Living (three projects in Pune, Bhopal) and Max India's Antara (two projects in Noida, Dehra Dun). Moreover, there are traditional realty developers like Tata Housing (one project, Bengaluru) and Brigade Group (four projects in Bengaluru) which have also entered the space.
Policy support
"The trend of nuclear families has seen a steep surge in the last few decades and led to the emergence of the concept of 'senior living'," says Ankur Gupta, JMD, Ashiana Housing. "The Covid-19 pandemic has disrupted the lives of senior citizens living independently and expedited the focus on senior living facilities like never before. With improved regulatory and policy support from the government and adequate investment from industry peers, the senior care segment will provide a huge fillip to India's economic development in the near future." Experts are of the view that senior care during the pandemic has shifted the narrative from these communities being hospitality-driven to health-caredriven. The segment addresses the most vulnerable age group and, therefore, requires providers to enhance health care offerings – something more than just being a retirement home. "Further, senior care should be
seen as essential infrastructure by the government after the current pandemic crisis as families struggle to cope with both access to infrastructure and health care facilities," says Ajay Sharma, managing director, valuation services, Colliers India. "Further, the industry should be highly regulated with norms laid down, and to promote this the government should provide tax subsidies to going concerns created by investors and developers of such communities." To safeguard the rights of seniors, the Central ministry for social justice & empowerment has defined models for operating and monitoring retirement homes. While the framework is based on regulations and guidelines for residential real estate, of which senior living is a part, the norms acknowledge that senior living developments differ from conventional housing and have special requirements.
"Due to the rise of nuclear families, increased life expectancy and people living across geographies, 'independent
seniors' are becoming a new demography," says Anuj Puri, chairman, Anarock Property Consultants. "Such seniors do not settle for traditional old-age homes as they prefer – and can afford – autonomy and the company of age peers in well-equipped retirement communities. A recurring theme of this pandemic has been seniors living alone, struggling for basics, managing without house help and anxious about existing and potential medical issues. The need for homes in a setting where these factors are taken care of is now undeniable." With all these developments in place, senior living is all set to emerge as one of the promising asset classes within the realty space. Though still at a nascent stage, all the factors are quite favourable in this regard and a player like CPC, with its experience in this field, will play a significant role in shaping up this business in India where the rise of nuclear families and other social-economic factors are turning out to be a trigger. Senior living is not just a real estate play but is a specialised business and that is where companies like CPC will have an edge over other players. With its decades of industry experience, it can set new benchmarks in a market where the pie is getting larger.