Columbia Pacific Communities: The genie every senior citizen needs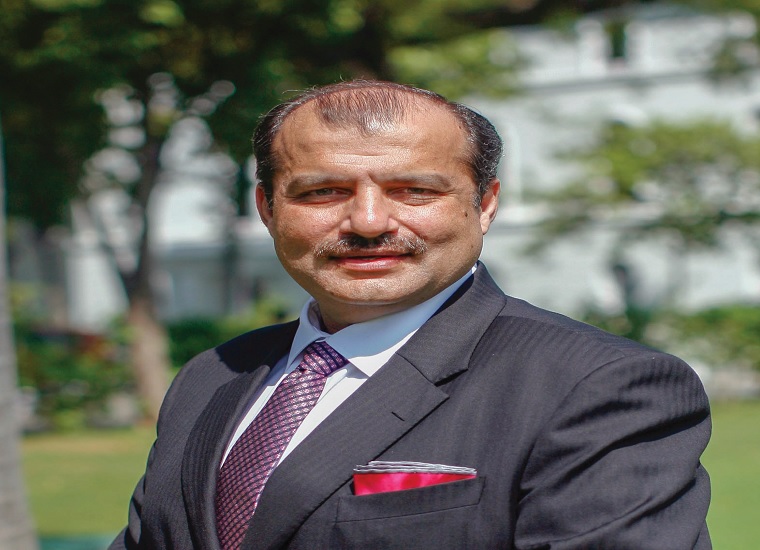 20 years ago, when Daniel R. Baty ­ the legend who established Columbia Pacific Group in Seattle in 1989 and championed the concept of senior living ­ visited India, he found that the country wasn't ready for senior living communities. 17 years later when Daniel visited India again, he still felt that the country was not culturally ready for the change, but socially it had opened up to adapt to the global shift. Hence, he decided to offer senior living communities that are world class, safe and secure, giving peace of mind to seniors and their kin.
"Social and demographic changes coupled with increasing wealth is leading middle-class Indians to live as nuclear families. Today, parents are willing to let their kids live free, grow, and be global citizens instead of clipping their wings. On the other hand, their children want their parents to live in a community that is supporting and letting them stay away from early aging ­ a community that steals their loneliness and provides them the opportunity to live a life they always wanted to," explains Mohit Nirula, CEO, Columbia Pacific Communities.
He continues, "What makes a senior living community successful is the way it is designed, run and managed which makes seniors live healthier, far longer because it is an extremely healthy, engaging, and active environment. So, the thought of removing loneliness and making them live longer and healthier is why it is the right time for us to think of senior living communities."
With this concept, Daniel and Mohit established Columbia Pacific Communities ­ India's largest senior living operator. The company is a full service and solution provider in India, providing a range of services to its senior clients, starting from relocation services, valet parking, guest services, concierge services, Wi-Fi, health, and wellness centre, housekeeping, library, food, spa, technicians team, legal and administrative help, technology assistant, courier and postage services, religious rituals and ceremonies, horticulture, event planning, evacuation drills, and several others. What more?
To ensure top class services without compromising on the quality of its offerings, Columbia Pacific Communities has divided its business into three sections ­ the first is real estate where it ensures acquiring land at the most suitable location, designing and constructing the building, and then selling it to future residents. The second section is based on hospitality and services. Mohit explains, "The reason why people buy homes in communities for seniors is not much for the home but for the services that they need from the day they move in and the services they require at the growing age over time. Hence, our services at the hospitality context are essential and integral to senior living communities."
The third section of the business is built on the foundation of healthcare. Columbia Pacific Communities understands that as people age over time, there needs to be a community to stand by them in terms of their medical needs, whether it is today or tomorrow. "Columbia Pacific Communities is an amalgamation of real estate, hospitality and healthcare.
We stand strong by our promise of world class healthcare and our healthcare partner Columbia Asia Hospital empowers us to do so. We and the hospital are promoted by the promoters of Columbia Pacific Group. We are glad to have the four decades of international experience of the Group that is acting as our guiding light," explains Mohit.
In essence, this is what Columbia Pacific Communities is. The future residents of the communities get a home, world class services and healthcare, all under one roof. To ensure `no compromise' on its level of services, the company sometimes partners with real estate developers to take advantage of their experience, whether it's bringing in land in great locations at a reasonable price, or the ability to get approval or the economies of scale that comes in construction, cost and others. "And we bring in the design aspects because of our four decades of legacy in understanding the senior living community design, sales and marketing, and operations in healthcare. Between both the companies, the person who benefits the most are our future residents," explains Mohit.
The JOURNEY, the GROWTH and the EXCELLENCE
The world is a strange place! People, culture, food, taste and almost everything differ from country to country. But in India, this difference can be noted from region to region. With thousands of languages, cultures, dialects, food habits and more, it is difficult to paint them all with a single brush. Hence customization/personalization becomes more important. So, Columbia Pacific Communities followed a differential approach to ensure they meet every client's needs. Mohit asserts, "The very first step post establishing a base in the country was to acquire companies which allowed us the privilege to serve nine communities. And all of these in just two and a half years ­ serving 3,000 seniors in 1,600 homes spread across nine communities in five cities of Tamil Nadu, Karnataka and Puducherry. This proved as a learning lesson for us as well, where we got to know what works well and what works better while serving and looking after our residents, and putting the experience into use, we have started looking into designing our own communities."
The company has recently launched its 10th community called The Virtuoso Club and Serviced Residences, in Bangalore. The project is under construction and is likely to get completed by October 2022. Columbia Pacific Communities has also entered into a 50-50 joint venture with Embassy Group in Bangalore, one of the region's finest developers and with Nyati Group in Pune. The company will shortly add projects in Chennai, Kolkata and Hyderabad. Mohit feels that there is a lot of growth and excitement within the company and the organization is really keen on fulfilling its vision of being the country's largest, best and most preferred developers for community living for seniors.
While the world was still fighting the pandemic, Columbia Pacific Communities experienced a considerable growth. "It's been a busy two and a half years because of the good work done by our team. Remember we are still fighting a pandemic which has impacted seniors in the worst possible manner. However, our team's hard work is ensuring we remain busier for the next two and a half years". He continues, "Especially in the past 10 months, ever since we realised that we have to be acutely watchful of what the pandemic can do to our community, we have ring fenced our communities completely to isolate from the external environment and provide our residents all the services they needed within the communities without having them to expose them to any external threat." Going a step forward, Columbia Pacific Communities took cognizance of the fact that social distancing doesn't result in social out-passing or loneliness for their community residents. It had every protocol in place to ensure senior citizens live actively engaged social lives without putting them at risk.
The Three PROMISES
Standing strong on the three pillars of zero-headache lifestyle, positive aging, and a community standing with you, Columbia Pacific Communities walk each of them, literally. From security needs to housekeeping needs, both in the community and inside the house, from daily and monthly cleaning to preventive cleaning, from watering your plants to taking care of your dining needs including special food requirements due to medical or health reasons, seniors get every facility within the boundaries of the communities. This ensures zero-headache, and they have all the time to themselves to spend walking, playing, listening to music, visiting friends, or watching movies. `Positive aging' is a special brand promise of Columbia Pacific Communities. It's not just two magical words but it actually creates magic by de-linking one's physical age with the concept of aging. "Just because you are 60 doesn't mean you have to act like you are 60. We would want you to be physically fitter, mentally more alert, intellectually more stimulated and spiritually more enlightened in a social environment," Mohit highlights. Hence, Columbia Pacific Communities has a packed resident engagement programme that gives people the opportunity and space to engage with like-minded people in their pursuits. This keeps one healthier for longer because one is not sitting idly on the couch staring at the TV and holding the remote.
Mohit underlines a very important aspect of aging. He says, "With aging, the radius of your ability to interact with people gets smaller as you have to depend on various factors including a driver, a car, traffic, parking space and more. These hassles might confine your thoughts to go out to any function or meet someone staying at the other corner of the city. Hence our programs ensure that our senior residents spend a lot of time outside in the common areas, thus ensuring they age positively.
Built on the foundation of healthcare, Columbia Pacific Communities stands with its residents. Hence it offers 24/7 nurse, driver availability, and 24/7 ambulance on standby. The communities also have doctors visiting on a daily basis, while the premium segments have doctors available throughout the day. This ensures the residents' needs are addressed instantly. The company also has relationships with nearby hospitals and offers residents the `Golden Hour', during which a resident can be shifted from his/her bed to a hospital bed within 60 minutes in case of any emergency. Mohit asserts, "We have arrangements with the nearest hospitals whereby there is a seamless entry of the patient in the hospital as the patient's medical history and data is already shared. This ensures the shortest possible admission in the hospital and one has the best chance of recovery. "Obviously, these don't happen overnight or on their own. These are practiced, drilled down the legacy line, checked and audited to ensure this happens seamlessly," he adds.
Giving you the PEACE of MIND
Families in India are strongly bonded with love, care, and empathy. Despite all the facilities that their parents might be receiving at senior living communities, kids always have one corner of their brain engaged thinking about their wellbeing. To give them peace of mind, Columbia Pacific Communities is developing a software which will provide all the necessary updates about their residents to their kin. Whether it is their daily walk, health checkup, medial test reports, or others, the software will instantly update the children about their parents' day-to-day activities. Not just this, the residents can do a lot using the software. They can connect the residents with the community operations, their neighbours and should they wish, it will also be accessible to their friends and family. "They should be able to use the technology platform to do everything they wish to, whether it is booking a seat for a film, sending an invitation to another friend in the same community asking to book his/her seat, while also notifying their children about it. The idea behind developing this technology platform is to reduce distances while ensuring our resident's privacy," explains Mohit.
"The world is a strange place! People, culture, food, taste and almost everything differ from country to country"
The team that makes it POSSIBLE
Great work isn't possible without a great team, and Columbia Pacific Communities is proud of its members, whether its doctors, nurses, drivers, housekeeping staff, cooks, service personnel, operations teams and others. Hence it ensures that people offering the most critical services stay within the communities. But where the costs are much higher, the staff stays at homes near the community rented by the company. "Our teams are generally led by Resident Managers and are divided into departments like security, housekeeping, engineering, nursing, gardener and others, mostly staying within the community for easy access," says Mohit. To ensure utmost safety, Columbia Pacific Communities does the background verification of every employee at the community level.
"Families in India are strongly bonded with love, care, and empathy. Despite all the facilities that their parents might be receiving at senior living communities"
The VOID that needs FILLING
Having all the necessary licenses required to operate senior living communities in India (RERA, food safety and sanitation and basic clinic license), Columbia Pacific Communities has footed its roots at the right place. However, unlike the West, the ecosystem in India is not highly regulated and there is much that needs to be done to promote senior living communities in the country. Hence the company and few others together have created Association of Senior Living in India (ASLI).
ASLI engages with the government on various issues pertaining to senior living, whether it's allocating a land for the community within the city, or higher pay to the maid and cooks in the structure form due to the inclusion of GST, which they wouldn't have paid in the unstructured manner. "There is a concept of reverse mortgage, where 90 per cent of our residents know that the house they are living in will not be used by their children. So why not allow them to take advantage of this through the reverse mortgage model," questions Mohit, adding, "There are many such things that can be done to make senior living a little easier and happy. Hence, we try to reach out to the government through ASLI." Columbia Pacific Communities is not just appealing to the government to make senior living a breeze but is also engaged in creating awareness among citizens. It sees a huge opportunity and demand for such communities in the coming days and hence is working on adding 20 more communities at the rate of four every year for the next five year in various stages of design or possession. Mohit signs off by saying, "Bricks and cement will finish, but the demand for senior living communities in India will not.". And if the United Nations Population Fund and HelpAge India's report is anything to go by, Mohit has more than a point because India's elderly population will grow to 173 million by 2026.
Mohit Nirula, CEO
Having a great career spanning over three decades, Mohit has largely built his career graph at The Oberoi Group. Within a decade of his role in the organization, he took leadership roles across various brands of The Oberoi Group and across geographies.
At Columbia Pacific Communities, he uses his learning of the past three decades to build a world class senior living community to provide a safe, secure, and engaging lifestyle in an environment of genuine warmth and care.