COLUMBIA PACIFIC COMMUNITIES BANISHES STEREOTYPES AND NOTIONS AROUND ELDERS CELEBRATING VALENTINE'S DAY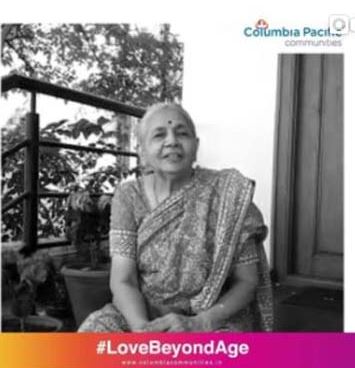 aunches hashtag #LoveBeyondAge for Senior Citizens
One is never too old to celebrate love. Holding steadfast to the belief, India's largest senior living community operator, Columbia Pacific Communities launched a unique initiative #LoveBeyondAge, amplifying the voice of the elders on Valentine's Day and dismissing age-old ideas of senior citizens being too old to find, express or enjoy romantic love.
Often Valentine's Day is associated with the young, and love is marketed and celebrated as a young person's thing. Meanwhile, seniors are deemed to have grown out of love and romance.
Breaking such stereotypes, Columbia Pacific Communities released a vox pop video showcasing the perspectives of both seniors and millennials and their ideas about love, romance and celebrating the day of love.
Speaking about the initiative, Piali Dasgupta, Senior Vice President, Marketing, Columbia Pacific Communities, said "We tend to have an ageist attitude towards love, almost adjudicating that one loses the ability to express and celebrate love as one grows older. These beliefs cannot be farther from the truth. The #LoveBeyondAge initiative beautifully shows how the expressions of love become stronger and more real as one ages. Seniors have lived a lifetime of love, conflict, and finding love again. In matters of true love, it is they who have a lesson or two more to teach the Gen Y and Z and therefore should not be excluded from the mainstream/pop culture depiction of love."
Society at large seems to have a cringe element associated with seniors displaying affection and eschew such narratives as much as possible. Even on celluloid, there's rarely any story on elderly love. However, the vox-pop video proved that love has nothing to do with age and showed the most romantic and graceful expressions of love by seniors. It also featured elderly social media influencers sharing their views on love.
Companionship, love, and togetherness continue to play an important role in the lives of seniors and love transcends the majorly materialistic and physical urges, while becoming more emotional, pure, sensual, and graceful amongst seniors.
The core brand purpose of Columbia Pacific Communities is to popularize the concept of positive ageing and shatter all age-related stereotypes. Love is an important element of positive aging. The initiative does not just celebrate love amongst seniors but also demolishes false notions about seniors shying away from celebrating Valentine's Day.
This is not the first time Columbia Pacific Communities has encouraged the expression of love among seniors. Last year, the organization's initiative '#ExpressionsOfLove' on the occasion of Valentine's Day saw a collaboration with Taj Yeshwantpur, Bengaluru for an elaborate, 100 dishes lunch for three couples to celebrate love in all its myriad forms and glory.
This year with #LoveBeyondAge, Columbia Pacific Communities has raised a pertinent question on our comprehension and view of love and its expressions amongst seniors in our society.