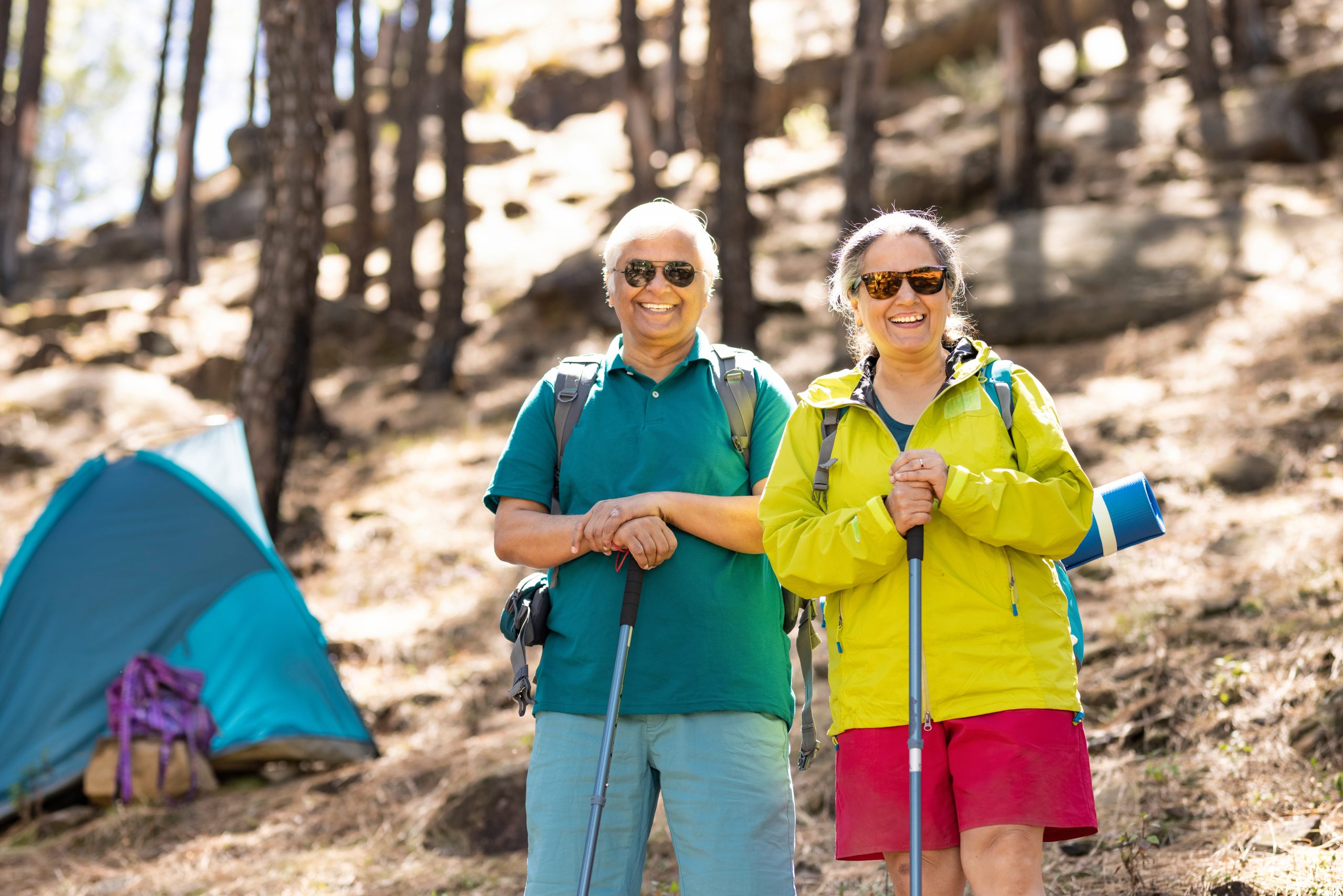 Tips for planning a safe and comfortable camping trip for seniors in India: useful insights by one of the leading retirement communities in India
May 29, 2023
Categories : Activities For Seniors Citizens | Senior Living Guide
Camping provides a wonderful opportunity to fully embrace the beauty of nature and break free from the fast-paced urban lifestyle. By venturing far from the busy streets, congested traffic, and polluted atmosphere of cities, camping allows seniors to reconnect with the natural world and all its treasures. Seniors can enjoy a camping adventure by exploring nearby camping sites, such as protected forests or mountainous regions. As one of the leading retirement communities in India, we share with you some of the useful insights on planning a safe and comfortable camping trip for seniors.
1. Research the location and expected weather at the campsite: Using a reliable app or checking the local weather forecast can provide valuable insights into the climate and the likelihood of rain or storms in the area. This knowledge will help seniors make informed decisions about what to bring. For instance, if the campsite is situated in a forest, they must pack mosquito repellent to avoid pesky bites. In hilly regions, warm clothing and an umbrella may be necessary to prepare for potential rain or snow. When selecting a campsite, prioritising safety and comfort is important. Choosing a senior-friendly campsite with essential amenities such as bathrooms, clean water, showers, and comfortable sleeping arrangements ensures that seniors can enjoy their camping experience without discomfort or inconvenience.
2. Keep first aid handy: Having a well-equipped first aid kit is essential when camping. Regardless of the location or weather conditions, being prepared for potential emergencies while spending time outdoors is important. A first aid kit can be obtained from a medical store or customised at home to suit individual needs.
3. Make a packing list: Given the remote nature of camping locations, where nearby stores may be scarce, creating a packing list becomes essential to avoid any important items being overlooked. A comprehensive packing list for seniors should include the following:
First aid kit: It should contain basic medical supplies such as bandages, antiseptic ointment, pain relievers, and any necessary prescription medications.
Map of the area: A map or guide of the camping site and surrounding areas will help seniors navigate properly.
Sun protection: Sunscreen, hats, sunglasses, and protective clothing should be packed to shield against harmful UV rays.
Flashlights and extra batteries: These will ensure visibility during night time and in case of power outages.
Matches and fire extinguishers: These are vital for campfires and emergency situations.
Insect repellent: These are needed to ward off bugs and mosquitoes.
Garbage bags: They are needed to dispose of waste properly and maintain cleanliness.
Hand sanitisers: They are needed to maintain good hygiene and cleanliness, especially in situations where water may not be readily available.
Non-perishable food items: These are needed to ensure that seniors have nutritious meals throughout their camping experience.
Climate-appropriate clothing: It is important to pack clothing suitable for the expected weather conditions, including layers for warmth, rain jackets, and comfortable footwear.
4. Know about fire safety: Fire safety should be a top priority for seniors when it comes to enjoying campfires during their camping trips. Gathering around a crackling campfire, sharing stories, and singing songs with friends and loved ones is often a cherished part of the camping experience. However, before striking a match and igniting a campfire, it is important for seniors to familiarise themselves with the rules and guidelines in place to ensure everyone's safety.
One important point to keep in mind is that not all parks or campgrounds allow campfires. It is important to check the specific regulations and guidelines of the camping area beforehand to determine if campfires are permitted. Some parks or campgrounds may have restrictions on open fires due to environmental concerns, fire risk, or local regulations. Respecting and adhering to these rules not only protects the natural surroundings but also ensures compliance with local authorities.
Looking for retirement communities in India? 
Explore our senior living communities that are thoughtfully designed to cater to your needs. Our retirement homes provide a worry-free and engaging lifestyle that allows you to truly embrace the best years of your life. To know about the cost of senior living communities, call us at +91 8884555554. 
Relavent tags : Best retirement homes in India | best senior living communities