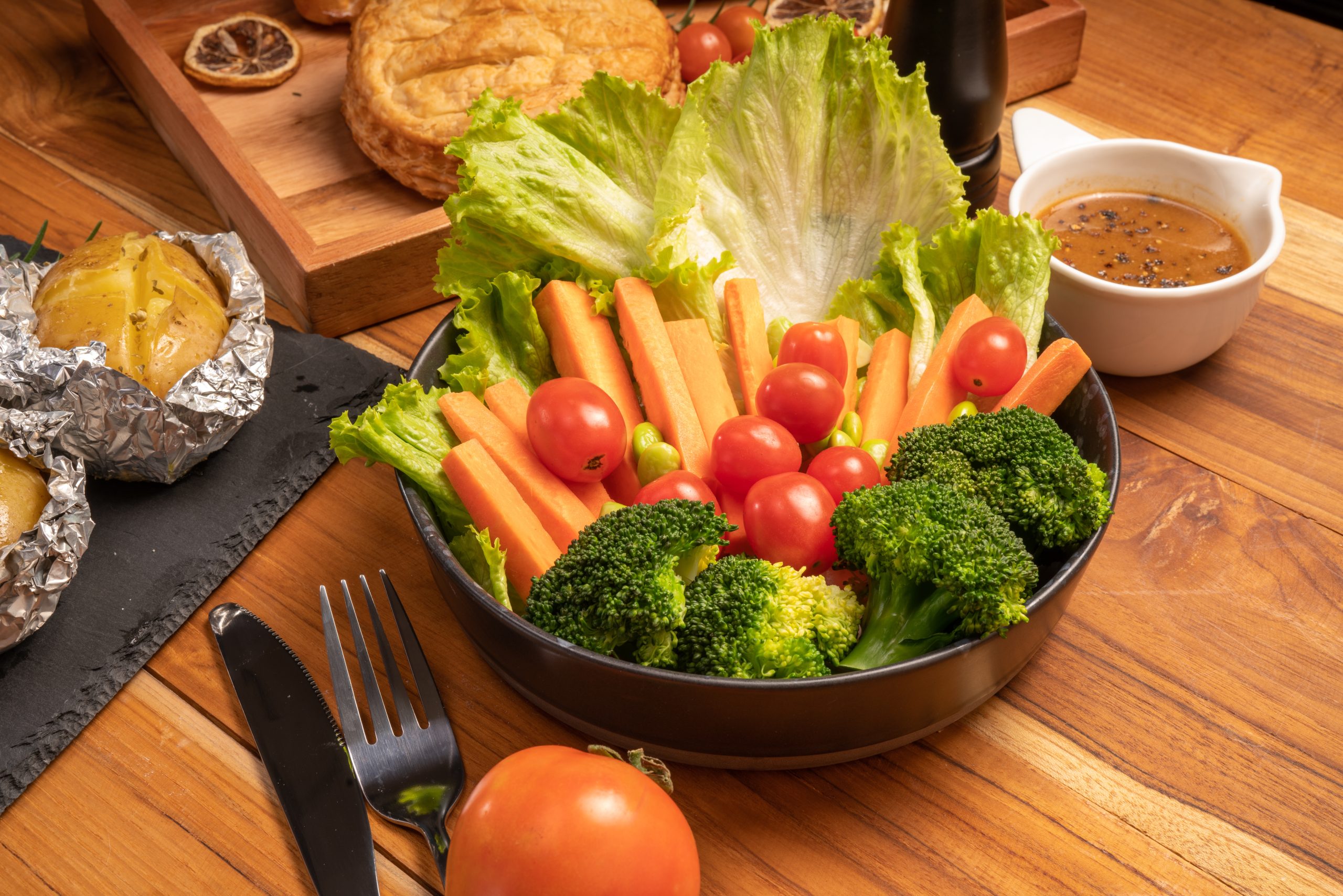 Fibre-rich vegetarian recipes for digestive health by one of the leading senior citizen homes in India
August 22, 2023
Categories : Senior Living | Senior Living Guide
A fibre-rich diet plays an important role in promoting digestive health, preventing constipation, and supporting optimal bowel function. In this collection of fibre-rich vegetarian recipes, we have curated a selection of nutritious dishes designed to promote digestive health in seniors.
1. Spinach salad:
Ingredients:
4 cups fresh baby spinach leaves
1 cup cherry tomatoes
1/2 cup sliced cucumber
1/4 cup toasted walnuts
2 tablespoons extra-virgin olive oil
1 tablespoon balsamic vinegar
Salt and pepper to taste
Instructions:
In a large salad bowl, add the fresh baby spinach leaves.
Add the halved cherry tomatoes and sliced cucumber to the bowl.
Sprinkle the toasted walnuts over the salad ingredients.
Drizzle the extra-virgin olive oil and balsamic vinegar over the salad.
Season with salt and pepper according to your taste preference.
Toss all the ingredients together until the salad is well-coated with the dressing and the ingredients are evenly distributed.
2. Broccoli soup:
Ingredients:
1 medium to large broccoli
1 tablespoon coconut oil
1 teaspoon black mustard seeds
1 onion, roughly chopped
10 curry leaves
1 green chilli, roughly chopped
3 large garlic cloves, roughly chopped
½ teaspoon ginger, roughly chopped
4 cups vegetable broth
1 ½ teaspoons salt, or to taste
1 teaspoon coriander powder
½ teaspoon turmeric powder
¼ teaspoon black pepper
¼ teaspoon cayenne (optional)
400 ml unsweetened coconut milk
Instructions:
Chop the broccoli into small pieces.
In a heavy-bottomed pot, heat coconut oil and add mustard seeds. Once the seeds start spluttering, add onions, curry leaves, green chilli, and a pinch of salt.
Saute the mixture until the onions turn golden, then add garlic and ginger.
After a couple of minutes, add the chopped broccoli, spices, and broth to the pot.
Bring the mixture to a boil, then reduce the heat and let it simmer for 20 minutes.
Once done, let it cool for a couple of minutes.
Use an immersion blender to blend the soup until smooth.
Stir in the coconut milk, bring the soup to a simmer, and then turn off the heat.
3. Quinoa Upma:
Ingredients:
1 cup quinoa
2 cups water
2 tablespoons oil
1 teaspoon mustard seeds
1 teaspoon cumin seeds
1 small onion, finely chopped
1 small carrot, finely chopped
1 small bell pepper, finely chopped
1 small green chili, finely chopped (adjust to taste)
1/2 teaspoon grated ginger
1/4 teaspoon turmeric powder
1/4 teaspoon red chili powder
8-10 curry leaves
Salt to taste
Fresh coriander leaves for garnish
Instructions:
Rinse the quinoa thoroughly under running water. Drain well.
In a saucepan, bring 2 cups of water to a boil. Add the rinsed quinoa and reduce the heat to low. Cover the saucepan and let it cook for about 15 minutes, or until the quinoa is cooked and the water is absorbed. Fluff the quinoa with a fork and set aside.
In a separate pan, heat oil over medium heat. Add mustard seeds and cumin seeds and let them splutter.
Add chopped onions, carrots, bell pepper, green chilli, grated ginger, and curry leaves to the pan.
Sauté until the vegetables become tender and the onions turn translucent.
Add turmeric powder, red chilli powder, and salt.
Add the cooked quinoa to the pan and stir gently to combine all the ingredients. Cook for a few minutes, allowing the flavours to blend together.
Garnish with fresh coriander leaves.
Seniors who live in retirement homes enjoy nutritious meals as part of their living arrangement. Leading retirement homes in India understand the importance of providing balanced and wholesome meals that meet the specific dietary needs of seniors. Professional chefs and nutritionists work together to plan menus that are not only delicious but also focus on the nutritional requirements of seniors. These meals are designed to incorporate a variety of nutrient-rich foods, including fruits, vegetables, whole grains, lean proteins, and healthy fats.
Looking for senior citizen homes in India that promote positive ageing?
Explore our senior living communities. We go above and beyond to create an environment that celebrates positive ageing and fosters a sense of purpose, joy, and fulfilment. Our dedicated team is passionate about designing engaging activities and experiences that cater to the diverse interests of our residents. From fitness classes and art workshops to music therapy sessions and cultural outings, there is something for everyone to enjoy. We believe that staying active, both physically and mentally, is key to maintaining a high quality of life in the golden years. Our commitment to the well-being of our residents extends to their nutritional needs as well. Our culinary team, comprising skilled chefs and nutrition experts, carefully craft menus that feature a wide variety of nutrient-rich ingredients. To know more, call us at +91 8884555554. 
Relavent tags : Best luxury senior living | best retirement home