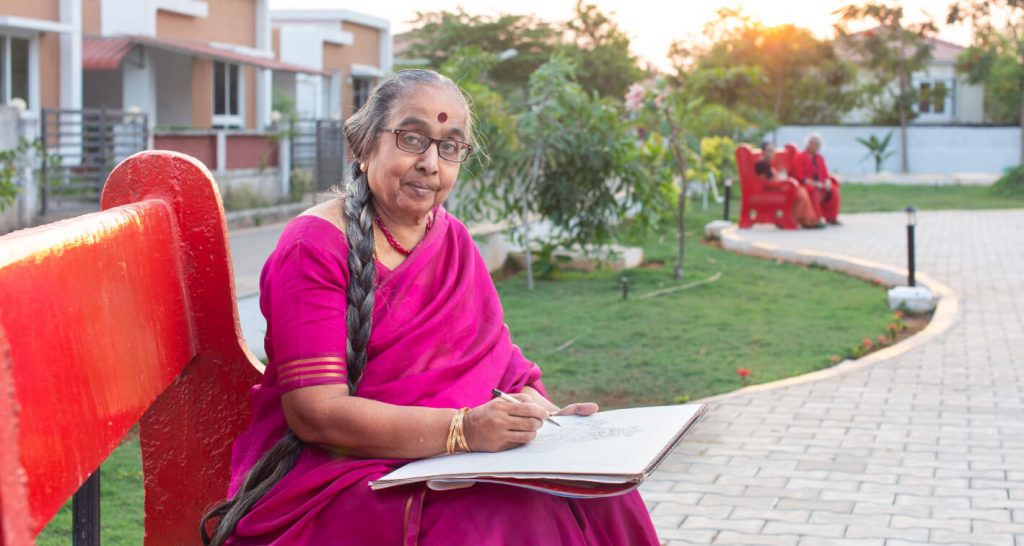 Useful insights on painting and drawing for seniors
April 22, 2023
Categories : Activities For Seniors Citizens | Retirement homes | Senior Living
Art is an excellent means of expression regardless of one's age. However, it becomes even more advantageous for individuals as they age, as it boosts their emotional well-being and offers numerous health benefits. Seniors can benefit greatly from engaging in creative activities such as painting and drawing. As one of the leading senior living communities in India, we share with you some of the useful insights on painting and drawing: 
Simple projects: Take up simple projects and start small. In case you are new to painting, it is likely that your painting instructor will teach you to start with simple pencil drawings such as shapes and figures. These do not require a lot of experience and involve drawing simple objects such as trees, fruits, and sceneries.
Different mediums: You can discover your own creative potential by experimenting with different drawing and painting mediums such as acrylic and watercolours. This process can be enjoyable and rewarding, allowing you to express yourself creatively while developing new skills and techniques.
Right tools: The right tools can make painting a much more enjoyable experience. Pencils are the most common tool for drawing. They come in different hardness levels, from 9H (hard) to 9B (soft). Charcoal is also a popular tool that can be used to create both light and dark lines. Erasers are also a must-have tool for artists – they are used for correcting mistakes and creating highlights. Choosing the right paper is also important for drawing – you can choose from different papers such as sketch paper, drawing paper, and watercolour paper.
Classes or workshops: Attend different art classes and workshops hosted by eminent and popular artists in the city. They will help you gain knowledge on different techniques and brush strokes.
Enjoy the process: Painting and drawing is a way of self-expression. When you create something based on your perception of perfection, it is unique and equally beautiful. Avoid thinking about achieving perfection. Art is about creation. Enjoy the journey of creation rather than stress about the final product.
Benefits of painting and drawing for seniors:
Joining a painting class can provide you with an excellent opportunity to socialise and interact with like-minded individuals. Painting classes offer you a chance to communicate with other students and develop new relationships. Even shy and introverted seniors can benefit from painting workshops, as they can gain exposure and create meaningful connections with fellow art lovers.
Painting can help you exercise and improve your fine motor skills. As you handle and use a brush correctly, while keeping your hands steady, you can improve your body coordination. Regular painting can also help prevent stiffness and inflammation, reducing pain from conditions such as arthritis and hypertension.
Painting is a creative art form that lets you express yourself. When you pick up your brushes and start to colour, you are likely to experience feelings of pleasure, happiness, and satisfaction. Also, painting can have a meditative and calming effect, reducing stress and anxiety. It can also improve focus and enhance relaxation.
At our senior citizen apartments in India, we offer a lively and warm environment that helps residents freely express themselves. We host different classes and activities based on their interests. Our goal is to help them lead an active, happy, and fun-filled retirement.
Want to know more on senior apartments and independent living?
Explore our senior citizen apartments in India. Our residents enjoy a vibrant lifestyle and spend their time as they want to, all while having the comfort of knowing that someone is available to assist them if needed. To know more about our retirement homes in India, call us at +91 8884555554.
Relavent tags : Best retirement homes in India | senior living communities in India