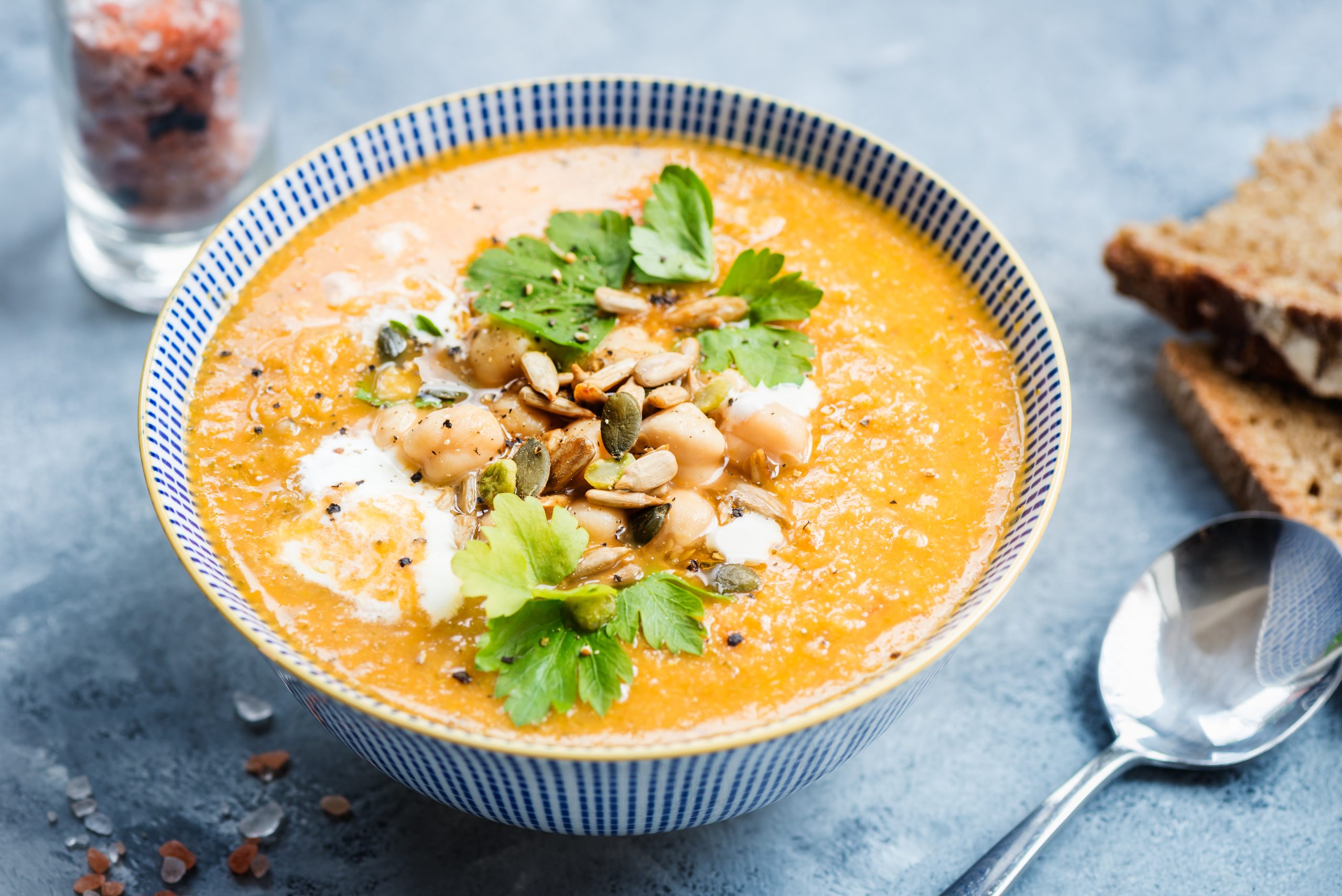 Gut-friendly recipes for seniors curated by one of the best gated community villas in Coimbatore
May 22, 2022
Categories : Senior Health Tips
A healthy gut not only keeps you in a good mood but can also keep chronic illnesses at bay. With age, diversity and amount of gut microbes reduce – as a result, seniors often complain of gut balance issues. As one of the leading senior citizen homes in Coimbatore, we share a list of gut-friendly recipes that are delicious and help seniors maintain a good gut balance: 
1. Broccoli and Cauliflower Soup
Ingredients  
1 onion (preferably white onion)  

1 tsp olive oil

½ broccoli, chopped

½ cauliflower, chopped, 

4 cups vegetable stock 

2 cloves garlic, minced 

salt and pepper to taste

1 tsp thyme

2 tbsp basil

1 cup cheddar cheese (optional) 
How to make it? 
Add the chopped onions and olive oil to a large non-stick pan. Cook on a low-medium flame for 2 to 3 minutes. Add minced garlic and cook for another minute. Pour 4 cups of vegetable stock. Then add chopped broccoli and cauliflower. Let it cook for 15 to 20 minutes. Turn the heat off and add the cheddar cheese. Add the thyme and basil. Give it a good stir and let the flavours mix together for a few minutes. Finally, put everything in the blender and blend it. Pour the soup into bowls and season it with salt and pepper. 
2. Moong dal khichdi 
Ingredients 
1/2 cup rice

1/2 cup moong dal 

A pinch of turmeric powder

1 teaspoon salt

A pinch of asafoetida
For tempering
2 teaspoon ghee

1/2 teaspoon cumin seeds

1 teaspoon finely chopped ginger

1 green chilli finely chopped

1 large tomato chopped

1/4 cup green peas

Salt to taste
How to make it? 
Mix the rice and moong dal and rinse it two to three times. Soak it for 15 minutes. After 15 minutes, drain the water and set it aside. Add the rice and dal to a pressure cooker and add 4 cups of water. Add salt, turmeric powder, and asafoetida and pressure cook on high heat for at least 3 whistles (maximum 5 whistles). In another pan, heat ghee and add cumin seeds. Once cumin seeds splutter, add chopped ginger and green chilli. Sauté for 30 seconds or so. Pour this over the khichdi. Add salt and adjust to taste. Garnish with coriander. Serve the moong dal khichdi with extra ghee on top.

3.Oats porridge 
Ingredients 
1 tbsp flax seeds or chia seeds (toasted)
1 tbsp organic honey (Optional)
How to make it? 
Soak the oats in water for 10 minutes. In a pan over medium flame, heat up the milk and add sliced apple and cinnamon powder. Once the apple is almost cooked, add the oats and cook for 4 to 5 minutes. Garnish it with raisins and flax seeds or chia seeds before serving. If you like your porridge sweet, add honey. 
Looking for the best gated community villas in Coimbatore that promote healthy eating ? 
At our senior citizen homes in Coimbatore, daily meals are prepared keeping the nutritional needs of our residents in mind. The menu is designed by a team of nutritionists. Our F&B team organises regular meetings with our residents to seek their feedback. To know more about the services and facilities offered, call us at +91 8884555554.
Relavent tags : Best gated community villas in Coimbatore | senior citizen retirement homes in Coimbatore
Hello 👋