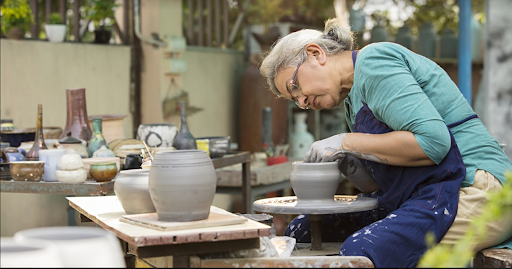 Why is Bangalore an excellent retirement destination for art enthusiasts?
July 22, 2023
Categories : Retirement Community | Retirement homes
With its rich cultural heritage, thriving art scene, and pleasant weather, Bangalore offers a unique combination of factors that make it an ideal place for retirees who have a passion for art. As one of the leading senior living communities in India, we share with you some of the reasons why Bangalore has become a favoured destination for retired art enthusiasts.
1. Cultural centres and art galleries: The city is home to numerous art galleries, museums, and cultural centres that showcase a diverse range of artistic expressions. Some of these include the National Gallery of Modern Art, Venkatappa Art Gallery, Indian Music Experience Museum, and Karnataka Chitrakala Parishat. From contemporary art exhibitions to traditional performances, the city offers numerous opportunities for retirees to engage with and appreciate different forms of art.
2. Melting pot of artistic tradition and cultures: Bangalore is a vibrant city that brings together artists from different parts of India and even from around the world. This creates a melting pot of artistic traditions and cultures. People who have retired in Bangalore can immerse themselves in a rich artistic scene that offers a variety of art forms to explore and enjoy. They can witness and appreciate diverse art styles such as paintings, sculptures, pottery, dance, and theatre.
3. Various cultural festivals: Bangalore is also known for its numerous art festivals and events that take place throughout the year. One such prominent event is the Bangalore International Arts Festival, which attracts artists and art-lovers from all across the globe. This renowned festival offers a diverse range of performances, workshops, and interactive sessions that are ideal for seniors to engage in and enjoy. Seniors with a passion for literature can attend the Bangalore Literature Festival. This event brings together poets, novelists, and other global literary figures under one roof.
4. Opportunities of art education: Bangalore is home to different educational institutions that teach different types of art. These institutions provide courses and workshops where seniors can learn and practise various art forms. Whether it is painting, dancing, sculpting, or other creative expressions, retirees can enrol in these classes to enhance their skills.
5. Theatre groups and acting opportunities: Bangalore's thriving theatre scene, with its reputed and diverse theatre groups, offers seniors a remarkable opportunity to pursue their passion for acting. By joining these well-established groups, seniors can continue to explore their artistic talents, nurture their love for the stage, and contribute to the flourishing theatre culture of the city.
6. Ready access to art supplies and tools: Bangalore is home to numerous art supply shops that cater to the needs of seniors pursuing artistic endeavours. These art supply shops offer a comprehensive selection of materials, ranging from paints, brushes, and sketchbooks to specialised tools for various art forms. Seniors can easily find the tools they require to pursue their artistic passions and indulge in their creative pursuits.
Looking for the best senior citizen flats in Bangalore where your hobbies are celebrated and nurtured?
Explore our senior living communities in Bangalore. Our retirement homes provide the ideal setting for you to immerse yourself in your hobbies, discover hidden talents, and forge lasting friendships along the way. With our extensive range of amenities and dedicated spaces, we have created an environment that caters to a multitude of hobbies. Whether you are an avid painter, a passionate gardener, or a lifelong learner, you will find the resources and support you need to pursue your interests. To know more, call us at +91 8884555554.
Relavent tags : Best retirement homes | Buy retirement homes in India