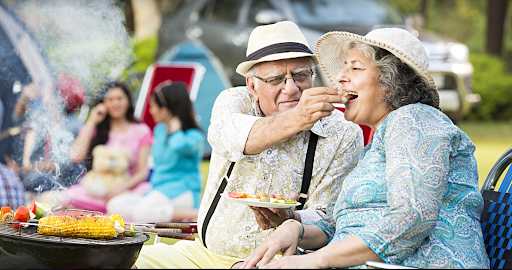 How to host a brunch party? Tips for seniors
December 23, 2021
Categories : Senior Living Tips
Brunch parties are a fun and relaxed way to rekindle nostalgia times with old friends. Today's seniors are looking for more socialising opportunities that promote friendship and positive memories. Hosting brunch parties is a great way for seniors to reconnect with their old friends, spend some wonderful time, and make good memories together. As one of the best senior citizen homes in India, we share some useful tips for seniors on hosting a brunch party: 
1. Host a buffet-style party: At a buffet-style party, everyone can serve themselves, so the host can relax and enjoy with guests. Guests can get up and refill whenever they like. They do not have to wait for someone to ask them for a second helping. The most important thing is that everybody keeps on moving so there is always an interesting conversation flowing around. 
2. Send an invitation at least three weeks before the party: There are no hard-and-fast rules about how to invite people to a brunch party. In today's technology-driven world, people send an e-invite, a message, or a text. The invitation is often followed by a call. However, the host should call a couple of days after the first invite was sent. This gives the guests enough time to decide whether they will be accepting the invite or not. 
3. Set a menu: There are no set rules about what should be on the brunch menu. As guests will be serving themselves, it is always a good idea to select food items that are not just tasty but also easy and convenient. Serve dishes that do not require last-minute preparation. A colourful tray of fruits can be a healthy and visually interesting addition to the menu. Also, keep a food name tag in front of each dish – it can be helpful for those with food allergies. 
5. Choose the right music: While the music should be toe-tapping, it should not be too loud so that people find it difficult to hold conversations. 
Looking for senior citizen homes in India with banquet halls? 
At our senior citizen homes in India, we have banquet halls where residents can throw get-togethers and parties for their guests. From decoration to food catering, everything is taken care of by our trained staff. To know more about our retirement homes, call us at +91 8884555554. 
Relavent tags : best senior citizen homes in India | senior citizen homes in India