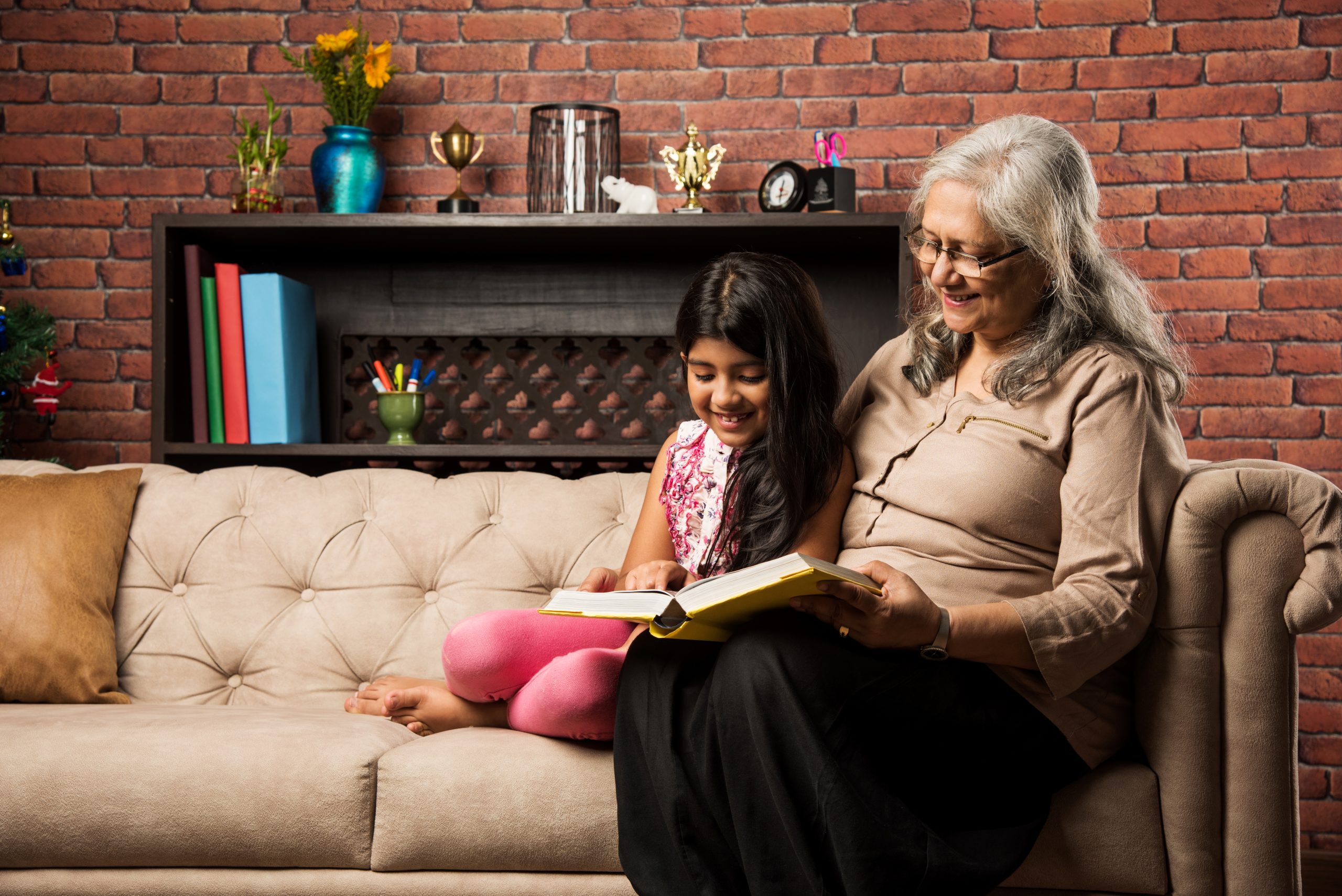 6 books to enjoy with your grandkids: check the list curated by one of the leading senior citizen homes in Bangalore
January 22, 2022
Categories : Senior Living Tips
If you are looking for ways to bond with your grandchildren, reading books together can help you enjoy uninterrupted time with them. Reading aloud with grandchildren not only encourages a love for reading in the children, but it also gives you an opportunity to relax and bond with them. As one of the leading retirement homes in Bangalore, we share with you 6 handpicked books that will captivate you and your grandchild: 
1. Grandpa's Wishlist by Madison Lodi: If your grandchild is a toddler, this colourful board book is a keepsake. Grandpa's Wishlist is a picture book about what a grandpa wishes for his grandchild. The book is full of colourful illustrations that your kids will adore.

2. In Grandma's Arm by  Jayne C. Shelton: If you are looking for a book that has beautiful illustrations and lyrical rhymes, In Grandma's Arm ticks all the boxes. This endearing board book is about a grandma and her grandchild and the journey they take through deserts and forests.

3. Please Write Back! by  Jennifer Morris: If your grandchild is learning to read and write, this is the perfect book you should grab to encourage him or her. The beautifully illustrated book features easy-to-pronounce words. The book is about an alligator who writes a letter to his grandma and awaits a response. 

4. The Magic of the Lost Temple by Sudha Murty: If you and your grandchildren love fiction, you will love this book about a city girl visiting her grandparents' village in Karnataka. From riding bikes to learning papad making, the young protagonist experiences an adventure of a lifetime in this beautiful book, which is ideal for children above the age of 8. 

5. You Read to Me, I'll Read to You by Mary Ann Hoberman: This is one of the best books that you can read with your grandkids. It not only includes short stories but also a read-together series. The read-together series has colour-coded sentences so you can take turns with your grandchild and enjoy reading the book together. 

6. Katie Morag and the Two Grandmothers by Mairi Hedderwick: This is a lovely book about a young girl who has very different grandmothers. One is from the city while the other  lives on the farm. In this beautifully illustrated book, the young girl helps bridge the gap between the grandmothers. 

Looking for senior citizen homes in Bangalore? 
Enjoy the peace of mind of living in a warm, vibrant, and friendly senior living community where you can enjoy a worry-free lifestyle. Our team of trained staff members take the hassle and worry out of daily living, giving you opportunities to find more joy in life's journey. To know more about our senior citizen homes, call us at +9188845 55554.
Relavent tags : retirement homes in Bangalore | senior citizen homes in Bangalore