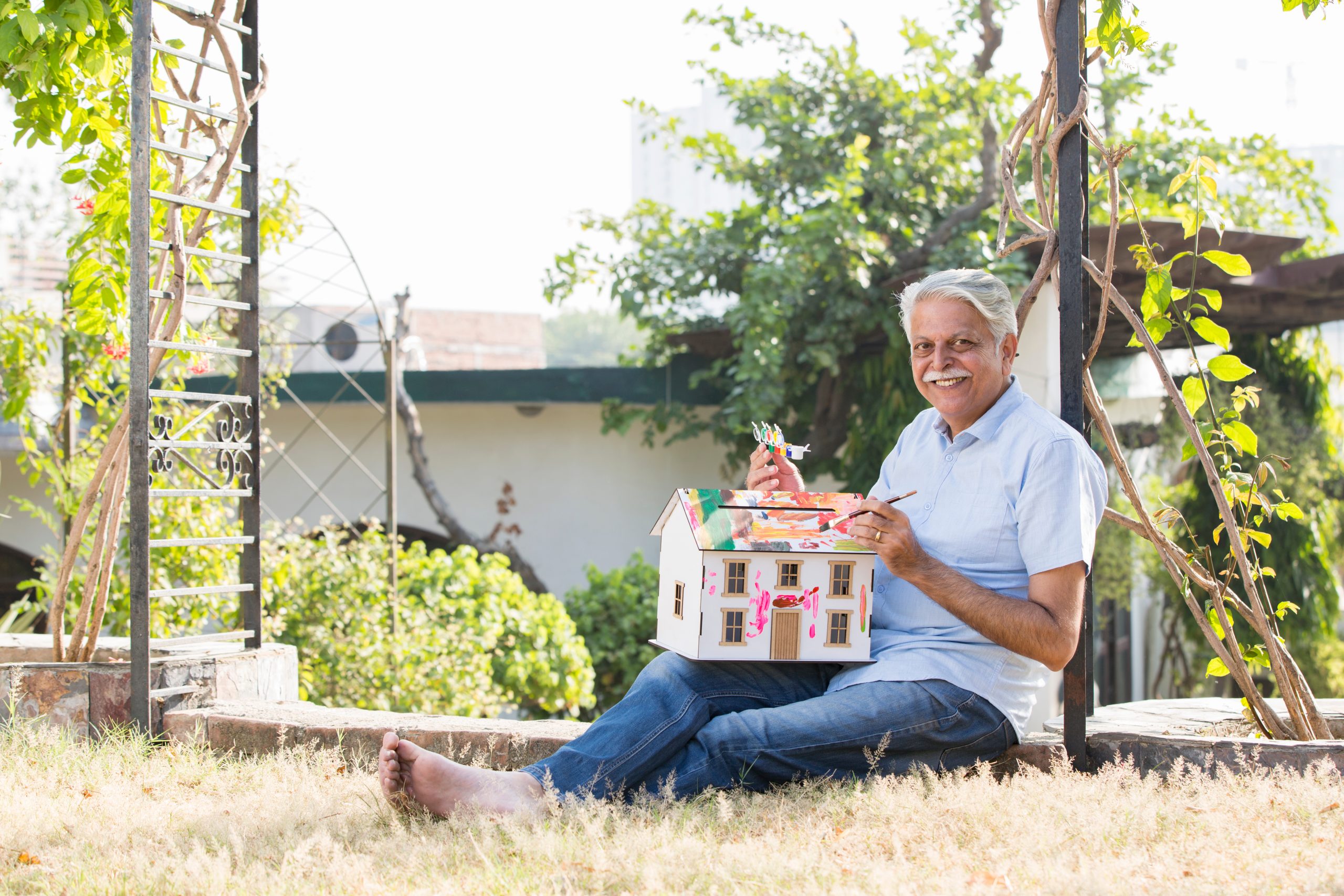 Benefits of Colouring for Seniors: List Curated by One of the Leading Retirement Communities in Bangalore
October 1, 2021
Categories : Senior Living Tips
There are different reasons why colouring has become a popular hobby with seniors. Many are turning towards colouring for the benefits it offers. From being a great creative outlet and encouraging mindfulness to relieving stress – there is a pile of evidence showing the psychological and physiological benefits of colouring for seniors.  
If you are toying with the idea of taking up colouring as a hobby after retirement, here are some of the benefits of colouring. 

1. Improve motor skills: 
Using coloured pens and pencils is not just fun for seniors but it also improves their hand-eye coordination. Motor performance often declines with ageing. When seniors colour, they exercise their ageing hands and fingers which in turn improves their grip strength and dexterity. 

2. Good workout for the brain 
It has been found that creative art can slow down cognitive decline. Colouring activates different areas of our two cerebral hemispheres responsible for creativity and logic. The creative part of the brain selects the colours, patterns while the other part of the brain controls the hand-eye movement. 

3. Reduces stress and anxiety
Colouring helps in reducing the thoughts of a restless mind, thus relaxing the brain. By allowing the mind to focus on colours and patterns, colouring induces the same state as meditating. Also, colouring is a great activity to indulge in before you go to sleep as it can lower stress and improve sleep. 

4. It is a great social activity 
Some seniors enjoy organising a colouring party with their friends while others join online groups. Also, colouring can be done with friends, grandchildren, and other family members. Colouring with likeminded people would help seniors socialise and build connections. 

5. Encourages self-expression : 
Most seniors have the potential to be creative. However, sometimes their imaginations are held back by social expectations. For seniors who want to experiment with their own ideas and expressions, colouring gives them a creative outlet. 
Pursuing hobbies such as colouring, sketching, and dancing after retirement is good for the overall well-being of seniors. At our senior living communities, we organise art workshops and classes where seniors can discover their creative selves. 
Looking for retirement communities in Bangalore?

If you are searching for a vibrant and welcoming community, explore our retirement homes in Bangalore. Our great selection of senior-friendly apartments come with services such as laundry, housekeeping, and 24X7 preventive maintenance so that our residents have time to pursue engaging activities. To know more about the services offered and the cost of living, call us at +91 8884555554.
Relavent tags : retirement communities in Bangalore | retirement homes in Bangalore