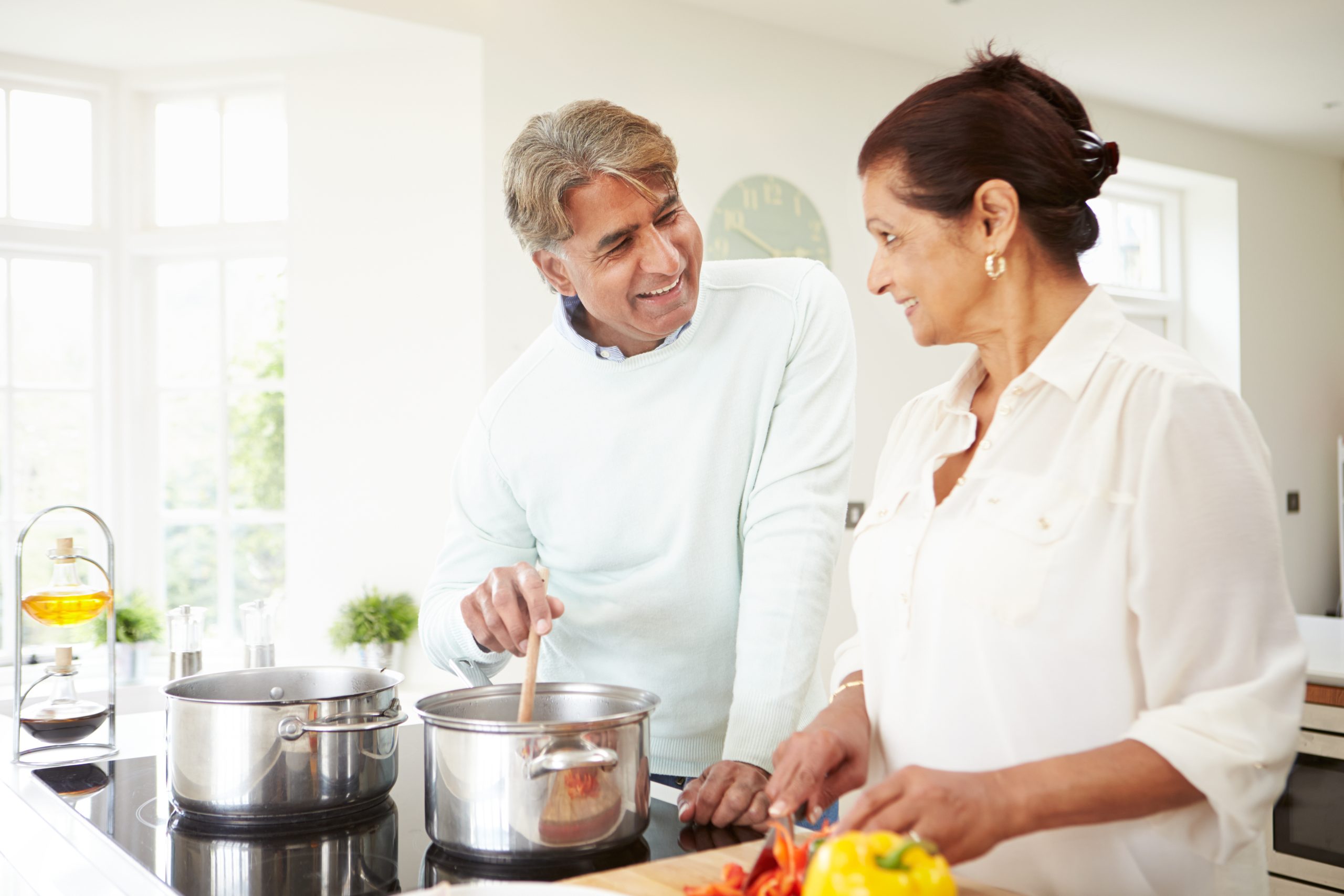 Ergonomic kitchen tools for seniors: insights by one of the leading retirement homes in Bangalore
March 25, 2023
Categories : Premium retirement homes in Bangalore
Ergonomic kitchen tools are designed keeping in the safety and comfort of a user. These tools help seniors
cook while reducing physical strain on the arms, hands, and wrists. They also promote proper posture,
making them ideal for seniors with mobility issues. As one of the leading retirement homes in
Bangalore, we have curated a list of ergonomic tools that can make cooking easier and more comfortable
for seniors:
Non-slip cutting boards
Seniors need to be careful while cutting or chopping in the kitchen as
cuts and injuries may take longer to heal and can even lead to other complications. Seniors should
use non-slip cutting boards which are designed to prevent the board from moving or slipping
while they are cutting vegetables and fruits. Also, it is important that seniors take their time when
cutting or chopping, avoiding rushed or hasty movements.
Easy-grip kitchen utensils
Utensils with ergonomic grips make it easier for seniors to hold
and control the utensil, ensuring that it does not slip or slide during use. With easy-grip utensils,
seniors can cook using less force and pressure, reducing strain on the muscles and joints.
Jar and bottle openers
These tools are designed to open bottles or jars with ease, especially
for seniors who may have weakened grip strength. Using an opener can help seniors open a wide
range of bottles and jars without injuries such as cuts or strains. Certain jar openers feature a
grip-the-lid design while some are designed to be attached to countertop.
Electric can openers
Seniors can switch to electric can openers as they are easy to use,
requiring little effort or strength to operate. With simple controls and large buttons, electric can
openers make it easy for seniors to open cans with minimal effort.
Electric knife
Seniors can use electric knives to slice meat, bread, vegetables, and fruits with
minimal effort. For seniors suffering from mobility issues, an electric knife is a safe, easy-to-use,
and versatile tool. It can help seniors chop and slice textured and fibrous ingredients without
straining their hands.
Kitchen carts
A clutter-free kitchen is a safe space for cooking and food preparation. A kitchen
cart not only keeps the space organised but also makes it easier for seniors to access ingredients,
cooking tools, and utensils while cooking. Also, these carts provide additional counter space in the
kitchen. Kitchen carts come with attached wheels, making them easier to move around the
kitchen. Some kitchen carts are designed with adjustable height settings, letting seniors adjust the
height to their specific needs.
Adjustable height kitchen stool
These stools can be multipurpose. They not only provide a comfortable seating option, they can be also used as a step stool and a plant stand.
Read More – How to Add Natural Decor Elements to Your Interiors? Useful Tips by One of the Leading Senior Living Homes in Bangalore
The best premium senior living communities in India let seniors enjoy a worry-free lifestyle, while
making new friends and learning new hobbies. Seniors do not have to worry about cooking meals or
maintaining gardens – as these communities have trained staff to take care of daily chores.
Looking for senior retirement homes in Bangalore where you do not have to worry about
daily chores?
Explore our retirement homes in Bangalore. The community will offer modern interiors designed
specifically to help seniors live their day-to-day lives in convenience and comfort. Some of the services
that will be offered include: dining facilities, customised housekeeping, and concierge services. To know
more about our retirement communities, call us at +91 8884555554.
Relavent tags : Best luxury senior living | retirement homes in Bangalore