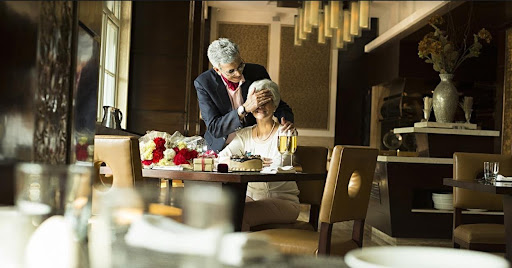 Valentine's Day ideas for seniors
February 11, 2022
Categories : Senior Living Tips
Valentine's Day is not just for couples – it is for everyone to celebrate. For seniors, it is the perfect day to show love and affection to their spouses, family, and friends. We have rounded up a few fantastic Valentine's Day ideas for seniors that are sure to fill their hearts with love and joy:
Celebrate with good food:

Whether you are celebrating with your spouse or your family, cooking a heart-warming meal is a great way to get the celebration started. If you find cooking tiresome, take your loved ones on a gastronomic journey at your favourite restaurant.

Kick off a movie marathon:

Pick out your favourite movies that you know your spouse or your family would like, and have a movie marathon. Include classics such as Casablanca, When Harry Met Sally, Mughal-e-Azam, or Dilwale Dulhania Le Jayenge. Do not forget the popcorn to make the movie-watching experience extravagant.

Make it a self-care evening:

For some seniors, Valentine's Day can be a perfect day for self- care. Meditation is a great way to start Valentine's Day on a positive note. Seniors can take some quiet time to reflect and meditate in the morning. Arrange an at-home spa experience and complete it with candles and calming music. Follow it up with an extravagant dinner.

Indulge in hobbies:

Pursuing a hobby can give seniors immense pleasure and can make Valentine's Day extra special. From creating heart-shaped wall hangings, beautiful cardboard photo frames, and knitting heart patterns to baking heart-shaped cakes, there are many hobbies that help seniors and their loved ones enjoy the day thoroughly.

Love knows no age at our senior living homes in Chennai

We, at Serene Adinath and Serene Pushkar by Columbia Pacific, celebrate love in all its myriad forms and glory. Valentine's Day at our senior living homes in Chennai is filled with fun and joy. We organise different group activities and contests where residents get opportunities to express themselves through photos, sketches, painting, and writing. To know more about our senior living homes, call us at +91 8884555554.
Relavent tags : senior citizen homes in Chennai | senior living homes in Chennai