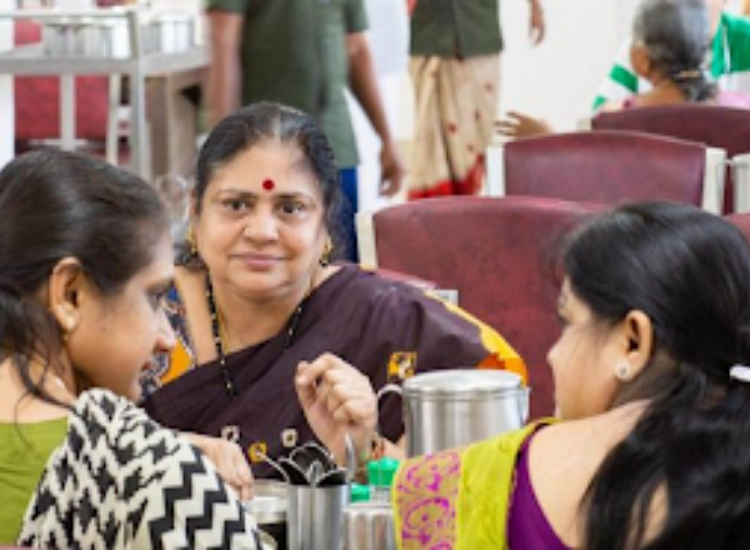 Why is Eating Together Important for Seniors?
August 17, 2021
Categories : Senior Living Tips
Across generations and cultures, sharing a meal has always been about so much more than just eating food. Eating together brings people closer as they exchange stories and share a laugh. As one of the leading retirement homes in India, we recognise the importance of a social mealtime and that is why at all our retirement homes in India residents eat together. 

Here we share with you some benefits of eating together: 
Encourages good eating habits:

It has been found that seniors take longer to dine and eat more nutritiously when dining with companions versus when they eat alone. Moreover, eating alone also leads to eating ready-to-eat food that is mostly processed, frozen, and lacks essential nutrients.  

Promotes good physical health: 

Seniors who eat alone tend to have poor food habits, which can cause malnutrition and compromise the immune system. According to a study, people who eat most of their meals alone may be at an increased risk for heart disease and diabetes. 

Create meaningful social connections:

Mealtimes are a great time to connect socially. When seniors share their meals with loved ones, they get a chance to enjoy hearty conversations. Be it family or friends, eating together is an easy way to spend time with others. 

Improve mental well-being: 

Coming together for a meal means talking, laughing, celebrating, and staying connected to people. It creates a sense of belonging and boosts self-esteem. Staying connected with people has immense psychological benefits such as reduced stress as well as an improved ability to cope with stress. On the contrary, eating alone is strongly associated with the lack of interest in food and a reduced state of health. 


However, if you are living alone, you can still nourish yourself with healthy food that too without feeling lonely: 

Subscribe to a healthy meal service. It is an easy and convenient way to plan solo meals. Subscribe to a healthy meal service nearby for a worry-free meal experience. 

Schedule mealtimes with family and friends: During mealtimes, schedule video chats with family and friends. Although virtual, it will give you the same warmth of staying connected to your loved ones.  

The dining experience at our retirement homes 


At Columbia Pacific Communities, residents enjoy healthy, fresh, and nutritious meals together. Made with fresh ingredients, there are multiple options available to suit all types of taste buds. The menu at our retirement homes is designed by nutritionists, keeping in mind the nutritional needs of seniors. To know more about our retirement homes, call us at +91 8884555554.

Relavent tags : Retirement homes cost | retirement homes in India
Hello 👋