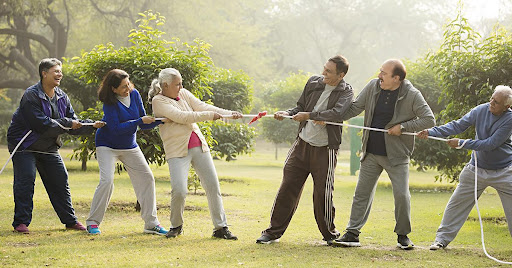 How Can Seniors Stay Socially Engaged? Useful Insights by One of the Premium Retirement Homes in Bangalore
May 7, 2022
Categories : Senior Living Tips
Social engagement positively affects a senior's mental and physical health. According to a study, being socially engaged can reduce high blood pressure. Another study found that social engagement and taking part in leisure activities can help a person maintain cognitive function in later stages of life. If you are a senior looking for ways to stay socially engaged, here is a useful read.  As one of the premium retirement homes in Bangalore we have curated a few useful insights on staying socially active as you age: 
Join a club:

One of the best ways to get more out of life is to join a club. Clubs such as book clubs, running clubs, and dance clubs make it easy to socialise and connect with others. Being part of clubs means that you can make new friends and at the same time learn something new or nurture an old hobby.

Get to know your neighbours:

Befriending your neighbours is a great way to expand your social circle. You can find like-minded people in your neighbourhood by joining the local gym or participating in cultural activities. Also, you can invite your new neighbours for a cup of coffee and socialise

in the comfort of your own home.

Connect with old friends:

Friendship is needed at every stage of life and more so when you are retired. Connecting with friends gives your lives meaning, comfort, and joy. It has been

found

that having friends in old age is associated with higher levels of happiness and life satisfaction.

Meet your old friends and spend quality time with them. When it comes to spending time with your friends, you can throw a reunion party at your home, go for movies or shopping together, or go on vacations together.

Use social media to stay connected with friends who do not stay in your city.

Move to an active retirement community:

Retirement communities are a great place to meet people of your age. Leading retirement homes have many opportunities for formal and informal social activities that promote engagement and solidarity amongst residents. In a retirement community, you can choose how little or how much you wish to socialise. 
Looking for retirement homes with independent senior living apartments? 
Explore our premium retirement home in Bangalore. The senior living community will have an active social calendar that will offer you a host of options to make new friends and stay socially active. To know more about our retirement communities, call us at +91 8884555554 or fill in a form to book a virtual tour. 
Relavent tags : independent senior living apartments | premium retirement homes in Bangalore