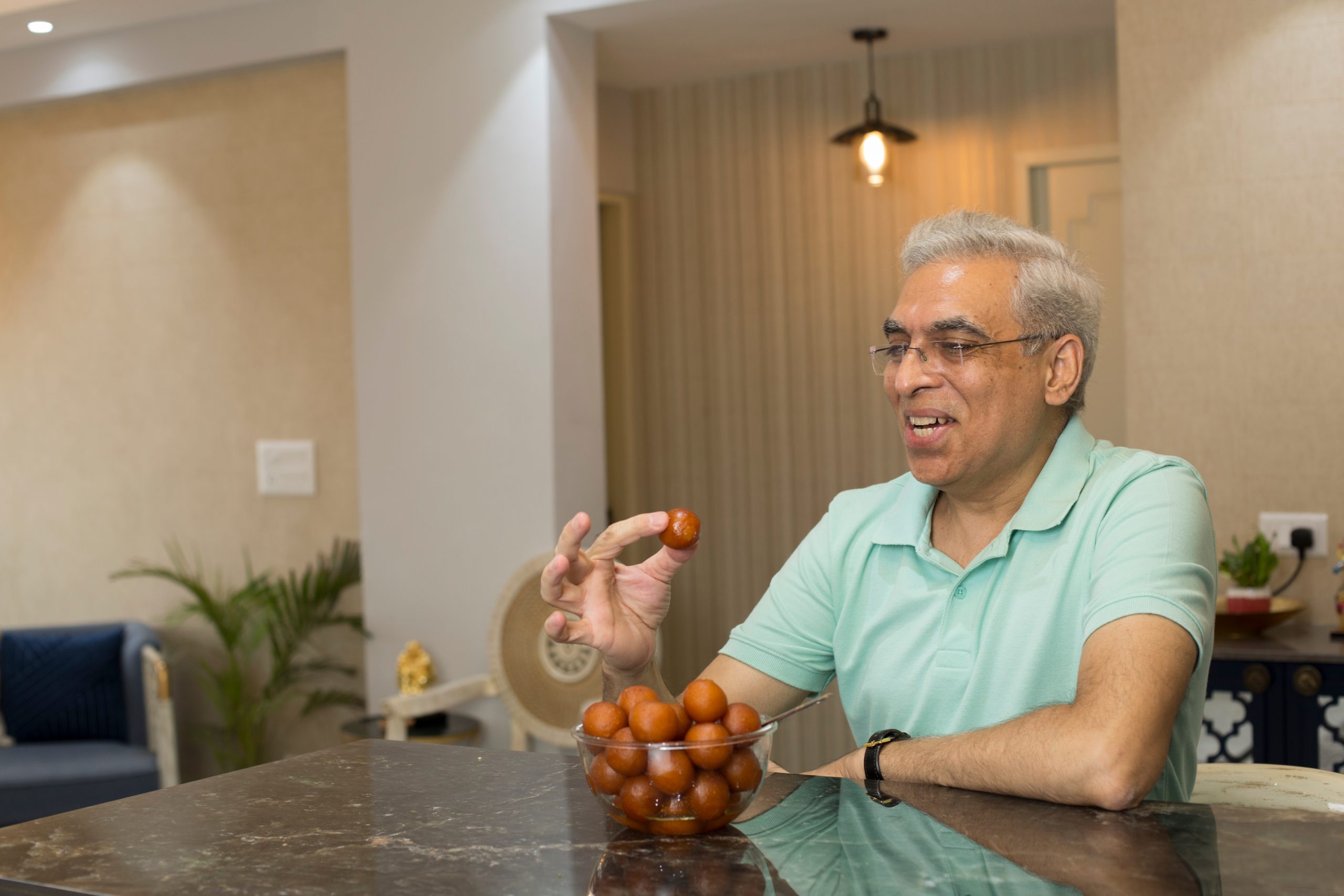 How to prevent overeating? Here are some useful tips by one of the premium retirement homes in Bangalore
October 20, 2022
Categories : Senior Health Tips | Senior Living Tips
People overeat for different reasons. Some people overeat when they feel emotionally stressed, while others overeat because they can not properly plan their meals. While overeating can be caused due to different reasons, there are many ways to prevent it. As one of the premium retirement homes in Bangalore, we share some useful tips to prevent overeating: 
By planning your meals for the week and including healthy snacks, you can make better food choices and avoid overeating.  Start by planning 3 meals and 2 healthy snacks each day. When you know what you are going to eat next, you are less likely to eat at irregular times. 
Protein is an essential nutrient for the body to function. Eating greek yoghurt with nuts, egg whites, veggies, oatmeal, and berries in the morning can help you feel fuller for longer, which can prevent overeating. 
Note: A protein-rich diet will boost your body's metabolism and increase the amount of calories burned by about 80 to 100 per day.
By controlling portion sizes, you can prevent overindulging and reduce the risk of binge eating.
Here are some of the ways to practice portion control:
Have your meals on smaller plates

Have smaller portion sizes when dining out

Check food labels

Wait for about 20 minutes before reaching for a second helping

Eat mindfully 

Do not eat straight from the serving bowl 
Drinking water has many benefits – it helps to flush toxins from the body, carry nutrients to cells, and lubricate joints. It also helps to regulate body temperature and aids in digestion. But did you know that drinking water can also prevent overeating? According to a study, drinking water before meals can promote weight loss amongst seniors. 
Practice good sleep hygiene:
As per a study, lack of sleep can cause hypertension, depression, obesity, and anxiety. Also, lack of proper sleep leads to hormone fluctuations that affects your appetite the whole day. Sleep deprivation could also lead to cravings for unhealthy foods such as chips, cookies, cakes, and soda. 
Here are some tips to follow good sleep hygiene:
Do not take electronics to bed

Avoid heavy meals for dinner

Do not drink caffeinated drinks 4 hours before bedtime

Avoid vigorous exercise before bedtime 
To know more on sleep hygiene, check this useful read.  
Looking for premium retirement homes in Bangalore that promote healthy living?
At our premium retirement homes in Bangalore, we focus on physical, mental, and emotional health of our residents. Our dining facilities are neat and well-maintained. The menu is designed by nutritionists and the food is prepared by trained chefs. Our communities also have yoga sessions, gymnasium with state-of-the-art cardiovascular and strength training equipment, and rubberised jogging tracks. Also, emergency care with 24X7 ambulance service and doctor-on-call are readily available. To know more about our retirement community living in Bangalore, call us at +91 8884555554.
Relavent tags : community living in Bangalore | premium retirement homes in Bangalore