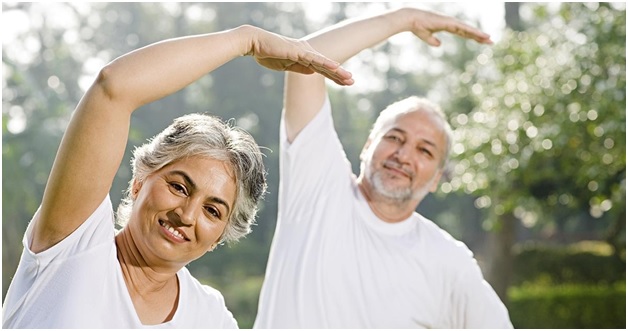 How to select an exercise Programme? Useful tips for seniors
August 4, 2022
Categories : Community Living Tips | Retirement Planning Tips | Senior Health Tips
Exercise is important in all phases of life, but if you are above 50, it is more important – as it helps you maintain independence and mobility. Once you are determined to stay fit during your senior years, it is important to find an exercise programme that you love and you can follow consistently. To help you find the ideal exercise programme, here are a few helpful tips.
Look for senior-friendly facilities:
With age, muscle and bone mass reduce. Incorporating regular resistance training with your bodyweight, free weights and resistance bands can help delay this to an extent. Going to senior-friendly gyms can be helpful as these facilities have low impact exercising equipment. Also, you will meet personal trainers who will have the skills and knowledge to create an age-appropriate workout programme that suits your fitness level. They can also guide you on performing certain movements.
Before you join such a facility:
Take a tour of the place
Ask about their senior-oriented programmes
Check whether they offer free trial classes
Sign up for a specific programme:
Staying fit does not always mean going to the gym. If you are interested in a specific type of exercise, say aerobics, dance, or yoga, search for qualified trainers. Aerobics and dancing not only elevate the heart rate, but also improve balance, strengthen multiple large muscle groups, and at the same time lift your spirits. Joining a yoga class has many benefits. You not only make new friends but also improve your muscle strength, balance, and flexibility. Here's a useful read on why seniors should do yoga.
Ask your doctor for recommendations:
If you have any health concerns or are recovering from recent surgery, ask your doctor to recommend an exercise programme that is likely to work best for you. The doctor will also be able to advise you on whether you may need assistance from a professional caregiver while performing specific exercises.
Start a group:
If you are having trouble finding a programme that you like, try forming an informal group of friends with similar fitness goals. You can ask your friends and neighbours to join you for yoga, swimming, or even dancing. This way you can stay fit and at the same time socialise.
Looking for retirement homes in Bangalore?
If you are searching the internet with phrases such as 'senior citizen homes near me' or 'independent senior living communities near me', explore our premium retirement home in Bangalore. Everything at our senior living community will be designed to support your active lifestyle. When you move into our retirement home, you will find amenities such as a clubhouse, swimming pool, fitness and wellness centre, indoor games room, yoga deck, and jogging tracks. All these facilities will help you stay physically active. To know more, book a virtual tour or call us at +91 8884555554.
Relavent tags : independent senior living communities near me | Retired homes in Bangalore | senior citizen homes near me